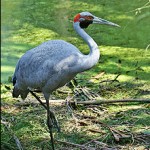 Planula Retreat is a Bird Watcher's Paradise. See our new Byron Bay Bird Watching page.
Serious birders will find Planula a fantastic base, as not only will you find a huge list of bird species on our over 50 acres of bushland, we are also able to provide you with access to West Byron Wetlands.
Whether you just 'like' birds or you are a serious bird watcher or even a 'twitcher' on a mission to tick off some of the rare species than can be found around Planula and West Byron Wetlands, you have found the right place to stay. Peaceful accommodation at what we call the 'last oasis' in Byron Bay.
We have a special key tag and the official permit for entering the Byron Bay Integrated Water Management Reserve. Access is possible Tuesdays, Thursdays, Saturdays and Sundays from dawn to dusk (6.30 am – 6.30pm AEST & 6.00am to 8.00pm AEDST).