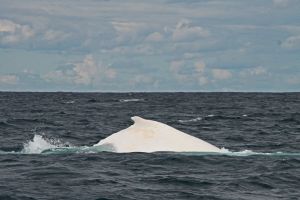 Byron Bay whale watchers on the afternoon trip had an experience they will never forget when they were treated with an encounter with Migaloo the white humpback whale.
The tour had all but ended when we decided to look at one last whale pod coming from the north. We were all astounded to find we had encountered an all white humback whale traveling south with one other whale. We suspected it was Migaloo and this was later confirmed by on board researcher Peta Beeman (Southern Cross University Marine Ecology Research Centre).
Migaloo and his companion were heading south at normal whale speed when all of a sudden they swung right and headed into the bay with a number of other whales. For the next thirty minutes we were treated to a once in a life time encounter with this famous humpback.
It wasn't long before Migaloo and his companion decided it was time to leave the bay and head south past Cape Byron back towards their feeding grounds off the Antarctic continent.
This the fourth encounter Whale Watching Byron Bay has had with Migaloo who researchers believe is almost certainly an albino humpback whale. Let's hope there is plenty more Migaloo encounters to come.