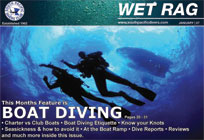 In the January 07 issue of Wet Rag – the new pdf dive magazine from South Pacific Divers Club, Byron Underwater, gets reviewed very kindly.
'the stunning footage and interesting facts presented in the commentary kept me riveted the whole time … shot by Tim Hochgrebe, some of the footage is truly spectacular … the voice over provides a wealth of interesting information about the local environment and each type of animal. A very educational and interesting video, well worth a look'
You can download the all issues of Wet Rag pdf magazine on the South Pacific Divers website.